Our Veterinarians:
Experienced Veterinary Professionals for Clarksville, TN
Ronald Whitford, DVM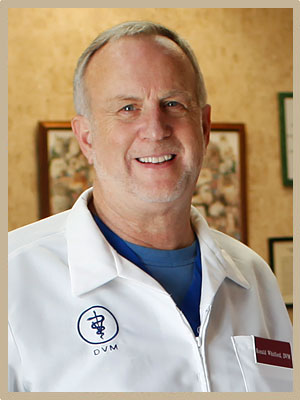 Dr. Ronald Whitford is a Small Animal Practitioner and Chief of Staff at St. Bethlehem Animal Clinic. He founded the clinic in 1980 after working at another practice here in Clarksville, Tennessee.
Dr. Whitford says he was 12 years old when he decided to become a veterinarian. His beloved dog Nosey had to undergo a front leg amputation due to radial nerve paralysis after being hit by a car, which not only showed him the importance of good veterinary care, but introduced him to Dr. Harry Morgan. "Not long after meeting Dr. Morgan I began working for him and he took me under his wing and became my mentor all through middle school, high school and college," he says. "Upon graduation from veterinary school my first veterinary job was with Dr. Morgan and then two years later I was able to open my own practice."
For his undergraduate studies Dr. Whitford attended the University of Tennessee where he majored in Animal Science and Biology. However, due to early acceptance to the Auburn University School of Veterinary Medicine he did not complete coursework for a Bachelor of Science opting instead to immediately begin veterinary studies. In 1972, he graduated at the top 10 percent of his class with a Doctorate of Veterinary Medicine.
Dr. Whitford's areas of special professional interest include surgery, feline medicine and dermatology. In particular, he is nationally recognized speaker, writer and consultant within the veterinary profession and is the primary surgeon for St. Bethlehem Animal Clinic. His professional organization memberships include the American Veterinary Medical Association, Tennessee Veterinary Medical Association, veterinary member of the Tennessee Health Department Board, and a member of the Animal Shelter Board.
Dr. Whitford is also active in a number of local organizations. He is Chairman of the Clarksville/Montgomery County Regional Airport Authority, and served four years as a regular member and then four years as the chairman of the Clarksville/Montgomery County Board of Education. For all four years of his chairmanship, the school board won School Board of the Year. He also was named a State School Board Member of the Year and was asked to speak at the National School Board Association and State School Board Association.
He is married to Kathryn Whitford, our Client Service Coordinator and Lay Staff Supervisor. Dr. Whitford says, "She worked at a competing clinic as a teenager and then through her twenties. I had to marry her to get her away from our competition!" The couple has five adult children, Ryan, Wendy, Charity, Michael, and Jenny.
Dr. Whitford also provides a home for a standard poodle named Lucy; three inside cats named Hazel, Clarabelle and Gerty; and two outside cats named Melanie and Ashley. In terms of outside interests, Dr. Whitford says that practicing veterinary medicine is his hobby as well as vocation so he is something of a workaholic, though happily so. That said, he owns his own plane and is instrument rated. He also is a member of Angel Flights, which is a nonprofit organization providing flights for people in medical need as well as for transplants.
Catherine Harris, DVM
Dr. Catherine Harris is a mixed animal practitioner who joined the St. Bethlehem team in May 2018. She loves helping all animals, big and small.
Dr. Harris is originally from Greenwood, South Carolina and completed her undergraduate degree at Clemson University in 2012, majoring in Pre-Veterinary Sciences. Dr. Harris dreamed of being a veterinarian since an early age, which came true when she completed her veterinary degree at St. George's University in 2018. Her professional interests include theriogenology and preventative medicine. Dr. Harris is a member of the American Veterinary Medical Association, American Association of Bovine Practitioners and the Society of Theriogenology.
Outside of work, Dr. Harris enjoys gardening, fishing, hunting, and spending time outdoors. She also enjoys any time spent with her Australian shepherd, Oaklee, and fiancé, James.
Cynthia Miller, DVM
Biographical information coming soon!
Jessica Baxter, DVM
Biographical information coming soon!