Newsletter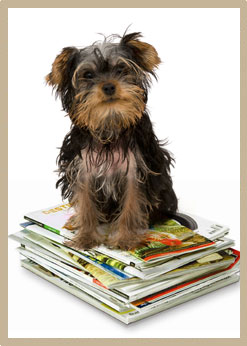 The veterinarians and staff at the St. Bethlehem Animal Clinic are pleased to provide you with an online newsletter. This fun and fact-filled newsletter is updated on a regular basis.
Included in the newsletter are articles pertaining to pet care, information on our animal hospital, as well as news on the latest trends and discoveries in veterinary medicine.
Please enjoy the newsletter!
Current Newsletter Topics
Emergency Kit For Your Pet
Of course, the best way to handle emergency situations is to avoid them by keeping your pet safe and healthy. However, in spite of your best efforts, accidents can happen. Here are some tips to consider before you need to use them.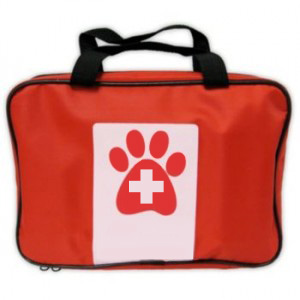 Always keep within reach the phone numbers for your veterinarian, emergency clinic, poison control center, etc. Keep a copy of your pet's health records where you can easily find them. You may also want to invest in a book that covers first aid procedures. Ask your veterinarian for recommendations. For example, the ASPCA's Complete Dog Care Manual and Complete Cat Care Manual have excellent information on first aid principles, as well as what to do in case of traffic injury. The book also contains useful information on how to perform artificial respiration and what steps to follow in case of poisoning, burns, insect bites, etc.
Have a pet carrier so you can safely transport your pet to an emergency clinic or veterinary hospital. Remember: An injured or ill pet may not act like its normal, sweet-tempered self. Handle the pet with care so you don't get bitten or scratched and need emergency treatment yourself!
Keep an emergency kit on hand with such items as:
• Bandages
• Adhesive tape
• Cotton
• Antiseptic cream
• Sterile dressings
• Gauze
• Thermometer
• Tweezers
• Scissors
• Blanket
Help Your Pet Be Healthy with Preventive Care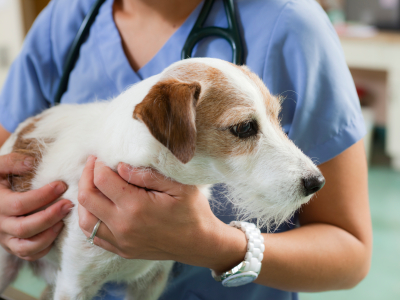 Please remember that regular wellness care not only saves money over the course of your pet's life, it also helps ensure his or her life will be long, happy and healthy. Some excellent reasons to maintain a regular preventative care schedule for your pet include:
• Wellness exams are not only about vaccines, but include a full examination of mouth, ears, eyes, skin, respiratory system, heart, lymph nodes, abdomen, joints and muscles, along with an evaluation of organ function, changes to your pet's weight, habits, activity level, and blood work—as well as a chance for us to answer any questions you might have.
• Routine exams help us develop a baseline for your pet, making it easier to assess any changes that take place from one visit to the next. Declines in health may not be as obvious to you because you see your pet every day, but with regularly updated records, we can recognize differences and take steps if needed.
• Early signs of illness can be detected before they become serious—signs that can only be identified by a veterinarian during a comprehensive exam.
• Dogs and cats can hide illnesses and pain, and in the absence of other obvious symptoms, could be struggling without your knowledge.
• Senior pets have evolving health issues as they age, and routine wellness exams will give you an opportunity to manage your pets aging and understand any lifestyle changes that may be needed.
• Dental issues in your dog or cat can affect his or her body more than you may imagine. Advanced stages of dental decay can cause heart, liver and kidney disease due to the bacteria entering the blood stream.
• Even indoor cats need preventive care. Problems ranging from ear infections to cancer can still occur and need early detection only regular examinations can provide. An indoor cat can still come in contact with a rabid bat or a mosquito carrying heartworm.
• There are physical and emotional costs associated with illness, not just for your pet, but for you and your family. Illness can be time-consuming, messy, worrisome and stressful—all of which impact your household and the way your pet interacts with family members. A stressful car ride and wellness exam once or twice a year pales in comparison.
April is Heartworm Awareness Month
Pets and their people love being outside in the summertime - and so do mosquitoes. Because mosquitoes are the most common carriers of heartworm disease, keeping pets up to date on preventive heartworm treatments during mosquito season is especially important.
Heartworms are exactly that—large worms that live in the hearts of cats and dogs. Known as Dirofilaria Immitis, heartworms are long, spaghetti-like worms that range in size from 6 to 10 inches. Heartworms are almost always transmitted by mosquitoes. A mosquito bites an infected dog or cat; that mosquito picks up microfilariae, a microscopic version of the heartworm. When that mosquito bites your dog or cat, the heartworm microfilariae are transmitted to him / her. Within 70 to 90 days, the microfilariae make it to your pet's heart and, once mature, begin reproducing. The cycle then begins again.
Signs of heartworm disease in pets vary based on the age and species of the pet and the number of worms present. Because the worms are usually located on the right side of the heart and lung, coughing and shortness of breath are common signs in both dogs and cats. Dogs that have just acquired the disease may have no signs, while dogs with a moderate occurrence of the disease may cough and show an inability to exercise. In extreme cases, dogs may experience fainting, weight loss, fever, abdominal swelling and death. In cats, the symptoms of heartworm disease are similar to those of feline asthma, including coughing and shortness of breath. Some cats may exhibit no signs of the disease, while others may suddenly die.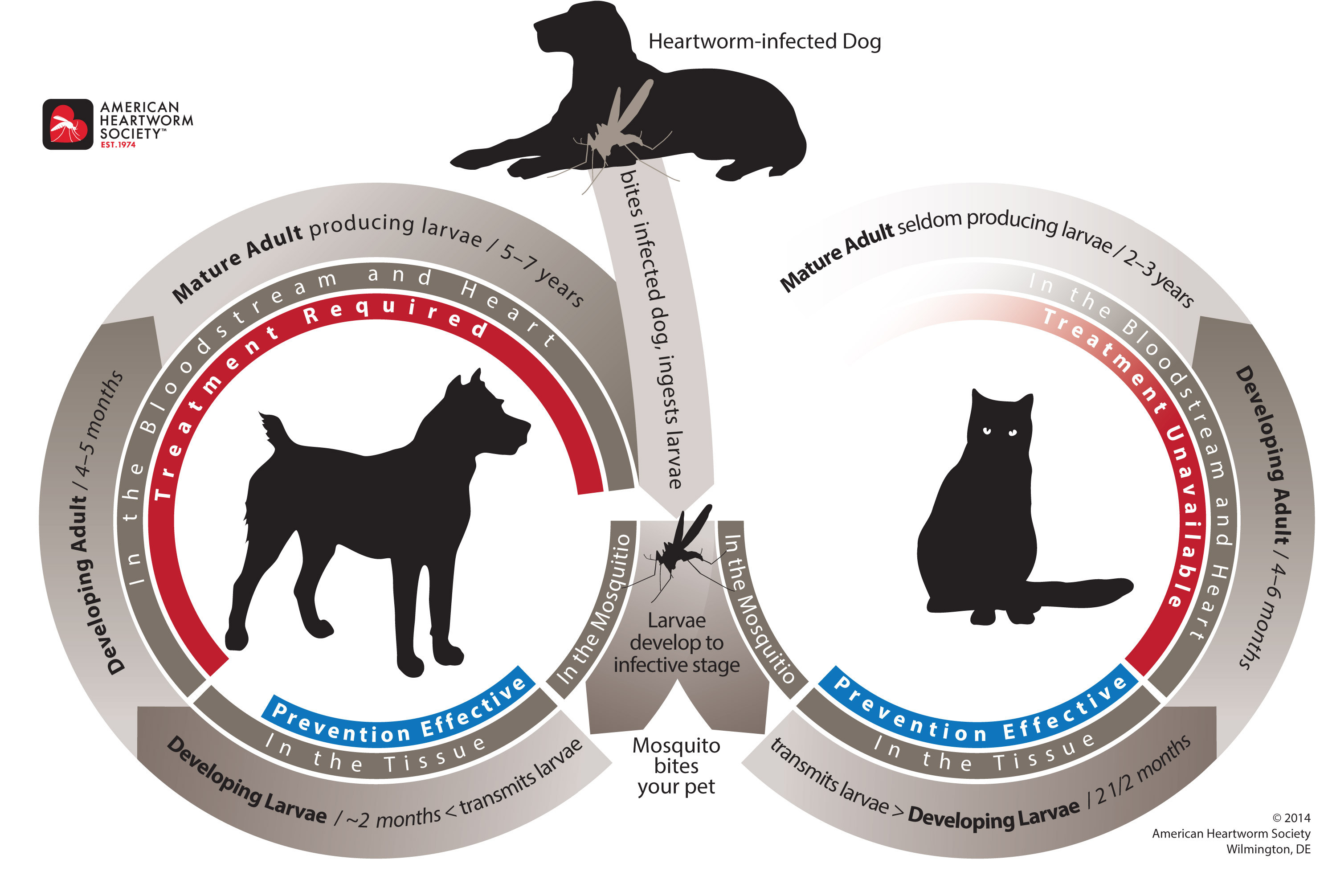 When it comes to preventing heartworm disease, pet owners have a number of options. Before beginning preventive medication, pet owners should have their pets tested for the presence of heartworms. If heartworms are present, a treatment plan should be discussed with your veterinarian. Most heartworm prevention is done by administering your pet a once-a-month heartworm preventive medication. Many of these monthly products are administered as a chew-able treat. Some are combined with other preventive medications. Your veterinarian will recommend the product that is best suited for your pet.
If you would like to have your pet tested for heartworm or you would like additional information about the disease, please contact your veterinary hospital.
Ridding of Fleas in Your Home
Work to Eliminate and Prevent Fleas from Your Pets and Home
Finding out that your pet has fleas can be a stressful experience as both a pet owner and a home owner. There are multiple steps to take and we want to make sure that you're fully aware and educated on all you need to know in order to protect your furry friends, as well as your living area. Below, we break down how your pet can get fleas, how to get rid of them, and how to prevent them in the future.
How do fleas get in my house?
Unfortunately, there are multiple ways that fleas can find a way into your home – and your pet isn't always the one to blame! Fleas can attach themselves to both animals and humans, so it could be something that you've unknowingly brought into your house.
Your pet's exposure to other animals: Whether you're at the park, the vet, or even another person's house with a pet that has fleas, your pet is still vulnerable to exposure.
Other pets entering your home: If a friend or family member brings their pet over your house, fleas are able to inhabit the warm space and try to make a home of their own.
The backyard: Both you and your pet could become a new host for fleas that are loitering in the backyard and find a place in your house to stay, or simply stick around with your pet.
Once fleas are present, they're very difficult to find and identify how they got into your home in the first place.
How do I get rid of the fleas?
When you finally realize that there are fleas in your home, there are multiple steps to take to officially get rid of them. They're not only found on your pet, but they can be in hard-to-reach and hard-to-see places like your carpet, furniture, and tiny crevices throughout the house.
With these helpful steps, you'll be able to protect you, your pets and your home from fleas!
Bring your pet to our office for treatment: Even if they're not the ones who have fleas on them, start the prevention process as soon as possible.
Clean everything: Wash and dry all of your pet's belongings, as well as your own!
Apply treatment to your home: Find the best ways to clean your house so there are no secret spots left that the fleas could be hiding.
Repeat this process at least 3 more times: You're not only trying to clean out the fleas, but any sort of eggs and larvae that they may have left behind.
How can I prevent fleas from returning?
After you're sure that all the fleas are gone, the next step is prevention. We want you to be aware of all the ways you can protect your home and your pets from dealing with fleas for as long as possible.
First, ask us about our flea treatment and what the best option is for your pet. There are multiple options and it's important to learn about each of them to see which one would benefit both your pet and your home. Don't be afraid to ask us as many questions as possible so you have all the proper information you need before choosing the best treatment.
When cleaning your home, your pet's blankets and toys, and anything else that fleas may love, make sure you're thorough as possible and maintain a consistent cleaning schedule. Prevention can be simple when you turn it into a routine, so be sure to ask us for any helpful tips if you're still unsure.
To learn more about ridding your home of fleas, click here.
Flying with Your Pet
Flying may not be the ideal way to travel with your pet, but sometimes there are no other options. In fact, over two million pets and other live animals travel by air every year in the United State. Unfortunately, it can be difficult to know what the policies are regarding pet air travel as they vary from airline to airline. Furthermore, states in the U.S. and national governments impose different restrictions. Whether you're flying coast-to-coast, cross-Atlantic, or half-way across the world, there will be specific guidelines to follow before you take to the skies.
Here are a few standard regulations that are helpful to know if you're considering flying with your pet. If you have more questions, contact your airline directly. Most times, the specific policies and procedures are listed on the airline's website, or you can call the airline's reservations line and speak with an agent.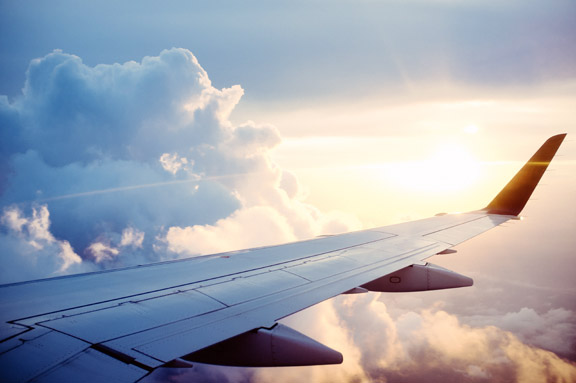 Pets in the Passenger Cabin
Policies regarding animals in passenger cabin vary from airline to airline with one exception – service animals. Since service animals are not considered pets and are needed to aid those with disabilities, they are always allowed to stay in the passenger cabin. Service animals do not require health certificates to travel, nor do they need to be in a container or cage.
The Federal Aviation Administration (FAA) allows each airline to enforce its own individual policy regarding pets in the passenger cabin, but the FAA requires:
The pet container must be small enough to fit underneath the seat without blocking any person's path to the main aisle of the airplane.
Your pet container must be stored properly before the last passenger entry door is closed so the airplane can leave the gate.
The pet container must remain properly stowed the entire time the plane is moving on the tar mac, as well as during take off and landing.
Despite differing procedures, there are a number of general policies you'll encounter that allow for all passengers to have a comfortable flight. Some of these policies may include:
Restrictions on the different types of animals allowed aboard
A limit on the number of pets allowed in the cabin
A requirement that your pet is harmless to fellow passengers, including inoffensive and odorless
A requirement that you be able to produce a recent health certificate for your pet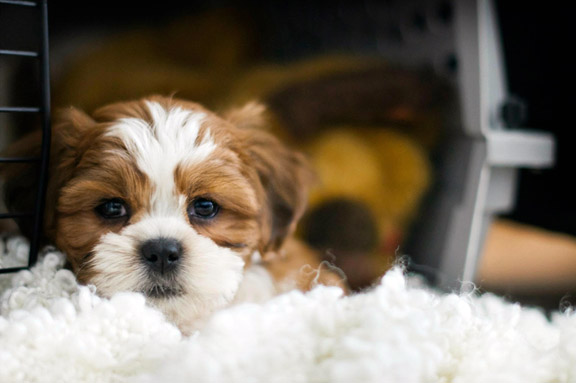 Tips for Safe Air Travel with Your Pet
As a pet owner, you are responsible for the welfare of your animal while traveling. In addition to federal regulations and airline policies, here are a few things you can do to help make traveling with your pet easier and safer:
Before traveling, it's best to help your pet get accustomed to its kennel. Also make sure that the door latches securely.
Don't feed your pet solid food at least six hours before the flight. A moderate amount of water and a walk before and after a flight are strongly advised.
Ask your veterinarian if it would be best for your pet to be tranquilized for the trip. It's also a good idea to try a test dose before travelling to gauge how your pet will react.
Health certificates must be issued 10 days before travel. Rabies and vaccinations certificates are also required.
Reserve a space for your pet in advance with the airline. Also ask about the time and location for drop-off and pick-up for your pet. Because of restrictions on the number of animals permitted, reservations are accepted on a first-come, first-served basis.
Ideally, try to book a non-stop flight. This will help reduce stress and worry for you and your pet. If possible, avoid connections or traveling during the weekend or holidays.
For overseas travel, ask about any health requirements including policies pertaining to quarantine.
Be sure to write your name, address and phone number on your pet's carrier, and make sure your pet is wearing a tag with the same information. A temporary tag that shows your destination address and phone number is also a good idea, as is bringing a picture of your pet in case it becomes lost.